Popcorn Machine
Description:

Sturdy Cabinet Construction
Feature aluminum extruded side post construction. Tempered glass side panels slide right into channels. All metal on the cabinet is finished with powder-coated paint that resists chipping.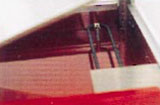 Built-in Warming Deck
All 8 oz. machines incorporate 50-watt heating elements underneath the bottom tray, keeping the popcorn warm and at the ideal serving temperature.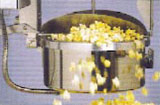 Hard-coat Anodized Aluminum Kettle
All poppers feature a high output aluminum kettle for optimum performance and easy cleaning. The side hinges allows you to reach all parts for cleaning. Just wipe it with a damp cloth regularly. The hard-coat anodized kettle creates a non-stick surface.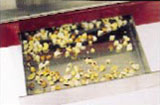 Old Maid Drawer
A stainless steel drawer built into the base of the popper collects the unpopped kernels. The small holes in the tray allow the old maids to fall through. It's simple to remove the drawer for emptying and cleaning.